Relying almost entirely on the internet over the past two pandemic years has made us appreciate the convenience it provides, helping us stay connected to what matters most, from the comfort and safety of home. Today, as we return to normalcy, wide-scale digital adoption has underscored consumer expectations for quality of experience in good connectivity.
So what is quality of experience and how do you know if you are enjoying a voucher?
Simply put, Quality of Experience is the overall satisfaction with the services and applications used for Internet connectivity. The telecommunications industry uses quality of experience as a measure for service providers to ensure the best user experience and satisfaction. Under the government's Jalinan Digital Negara (JENDELA), for example, quality of experience is measured using a few metrics, including smooth video streaming, fast web page load times, voice calls and uninterrupted IP voice and a seamless real-time esports experience.
As internet users, we are encouraged to share our feedback via platforms such as the Malaysian Communications and Multimedia Commission's (MCMC) JENDELA mobile app or the telephone company's own feedback centre, so that the quality of experience is collectively improved for the public.
When feedback is gathered for improvement, telecom operators deploy relevant teams (whether network, operations, or customer service) to assess concerns and propose solutions. This exercise is a painstaking process and telecom operators are working around the clock to ensure that customers have the best connectivity for the various functions they perform in their daily lives. But as customers, what can we do to simultaneously improve our quality of experience?
Improve your quality of experience
First of all, understand what is affecting your internet connection This is the key. This includes examining location and weather, recognizing the age or type of your device, and assessing your capacity and internet usage trends. Focusing on the external factors that influence the quality of experience can help you troubleshoot issues yourself and identify ways to improve your experience.
Free up RAM – close unused apps to free up more RAM for faster internet speed. The more applications open, the more RAM is occupied.

Optimize storage – remove junk files, cache and trash from your device for faster internet performance.

Charge your device's battery – when the battery level drops below 30%, it affects signal strength and browsing speed.

Keep the device up to date – make sure your device and its systems are updated to support the capacity/bandwidth required for heavy usage.
Indoor WiFi – use the WiFi connection when you are indoors or in high-rise buildings.

Enable VoLTE and VoWiFi – enable VoLTE on your device to enjoy HD voice calls wherever you are. Here is how Android or iPhone users can do it.

Physical obstructions – concrete walls or mirrors can impact signal interference.

Router location – make sure your device is not far from the WiFi router.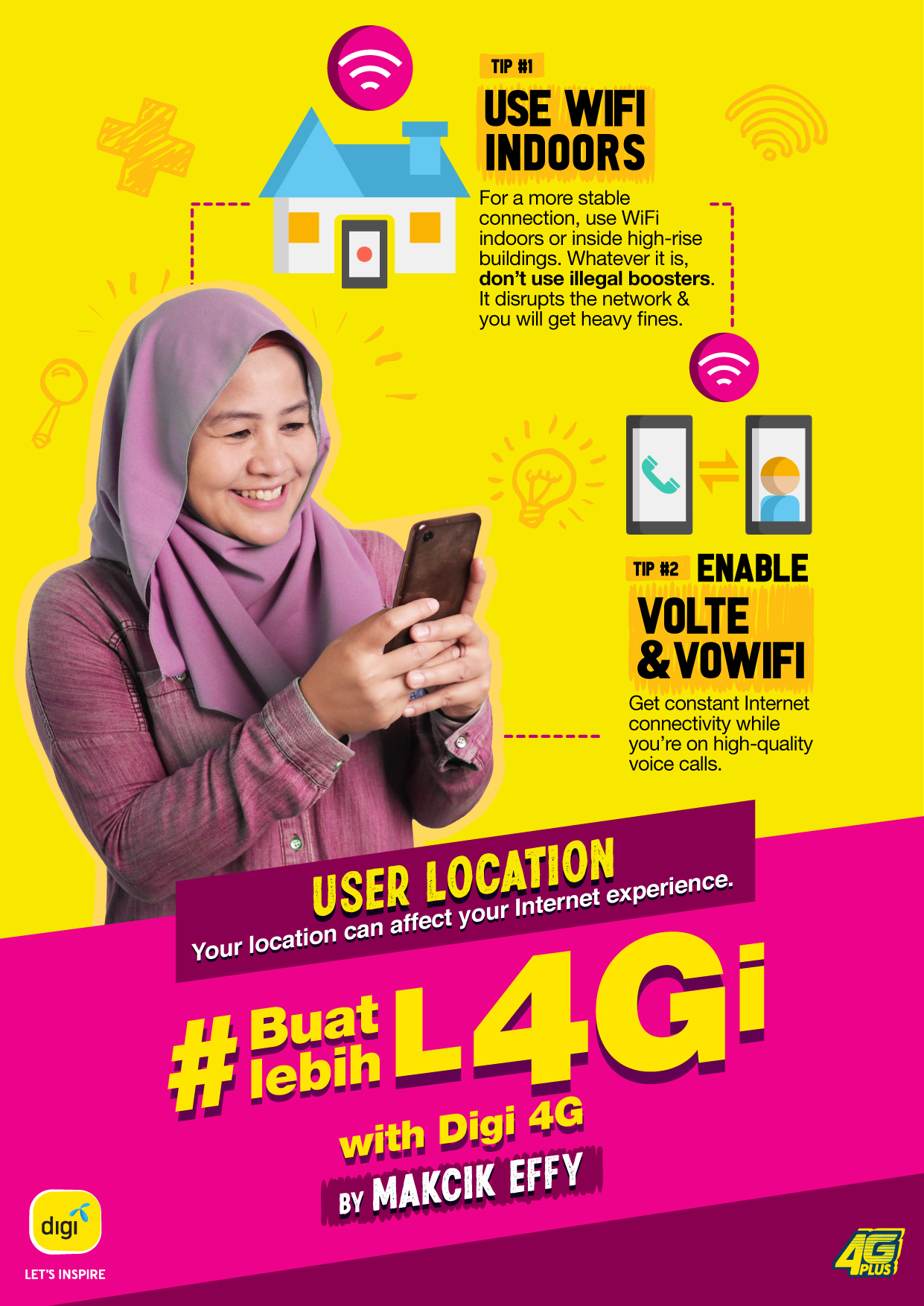 Enjoy WiFi – for clearer call connections during thunderstorms, stay indoors and connect to WiFi.

Switch to airplane mode – turn airplane mode on for 5 seconds and turn it off again to reconnect.

Avoid low battery – low battery can cause weak phone signals when it's raining.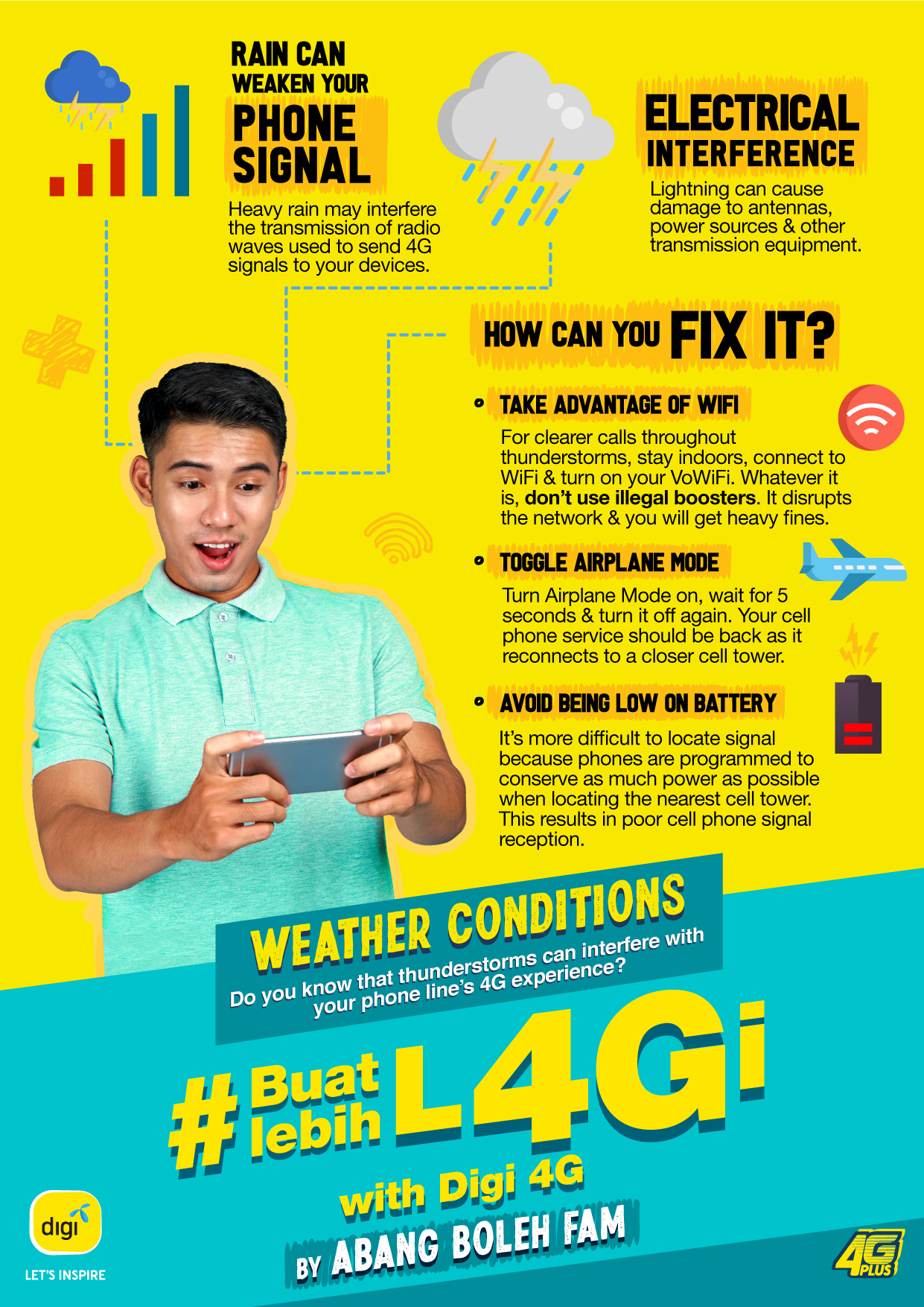 It goes without saying that in order to enjoy a continuous Internet connection and therefore an uncompromising quality of experience, it is advisable to have an Internet connection at home, at work and on the go (mobile) – and the data quota should be sufficient to support your daily connectivity needs.
Choose the right internet solution
That said, choose the right internet solution makes a difference in your quality of experience and no two users have the same Internet needs. It is essential to note that Internet bandwidth can be affected by the number of people in a household, the volume of usage, and whether it is accessible indoors or outdoors. For example, streaming live video or downloading movies will consume more bandwidth than an hour of Zoom calling or webpage loading.
Theoretically, if you have four users simultaneously streaming 4K video in one household, you'll need to go for at least 100 Mbps for a smooth streaming experience. In this case, selecting a postpaid plan and pairing it with a home fiber plan would meet the connectivity needs of the entire household.
The revamped Digi Postpaid Family Unlimited plan, for example, helps families stay connected via 3 unlimited high-speed postpaid lines with the option to pair their plan with a super-fast 300Mbps Digi Fiber internet plan for just an additional RM100/month. . This way, a family of four can continue their online learning activities, work from home, and enjoy browsing the Internet without having to worry about a drop in speed.
Meanwhile, for Malaysian university students between the ages of 18 and 25, with existing Digi Postpaid 40 or 60 plans, or for government officials and teachers with Postpaid 60 or 90 plans, Digi has designed the Digi Signature program to meet to their specific connectivity needs. Customers on this package will enjoy a total savings of RM120 with an additional discount of RM10/month for the duration of the 12-month contract, as well as unlimited social media data for 12 months.
For individual users or students with very specific usage and internet needs, a prepaid plan would suit them best and help them stay connected. Digi's revamped Digi Prepaid NEXT plan offers unlimited internet access for social apps such as TikTok, Instagram, Facebook and Twitter, ideal for social media enthusiasts, allowing them to always stay up to date with the news.
Mobile gamers can opt for the Digi RDY plan which is a prepaid plan designed specifically to enhance their mobile gaming experience. With Always-On Gaming Internet and Optimized Gaming Latency, gamers can focus on their best game or stream like a pro without having to worry about running out of data. The Digi RDY plan also comes with Game Credit Cashback to help users get the most out of their Ringgit when purchasing new character skins.
So no matter where you are or what type of internet user you are, Digi is committed to continuously improving its services and coverage, providing a more seamless internet experience while connecting Malaysians to what matters most. To learn more about Digi's networking offerings and products, visit https://www.digi.com.my/.
---
This content is provided by Digi.
Interested in having your ads on Malaysiakini? Contact the announcements team at [email protected] or whatsapp on +60 17-323 0707 for urgent matters.